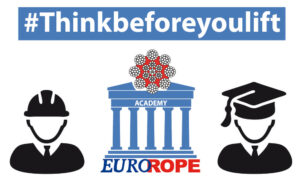 The Euro Rope Academy offers free #Thinkbeforeyoulift topics for download featured on our social media.
Feel free to print these and hang them in places where they will be noticed.
#Thinkbeforeyoulift with the Euro Rope Academy we want to remind people of simple but important issues when working with #belowthehook equipment.
Click the links below to open the document.
Safety as a common goal
At Euro Rope we think of a safe industry as a common goal, that is why we make and release these documents.
As we all need to invest in the highest quality standards, we invest time to educate others.
Modern social media allows us to reach a wide audience, and is a green and efficient way.
The Euro Rope Academy will continue growing on a regular basis
Share it yourself
From this mindset we are happy if you share, you can also make suggestions.